Rev. Pastor Laura Fitt-Baird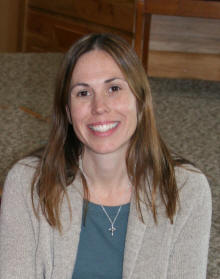 The Rev. Laura Fitt-Baird is a life-long member of The Christian Church (Disciples of Christ). Growing up in Stow, Ohio, she attended Camp Christian as a camper, staffer and counselor. Rev. Laura graduated from Bethany College in 1997 with a Bachelor's Degree in Social Work. She then attended Lexington Theological Seminary and after earning her Master's of Divinity, she was ordained into the Christian Ministry in 2001.
Over the past 15 years, Rev. Laura has served in various ministry positions including Christian Education, Youth Ministry, Associate Pastor and Pastor at Grace Disciples of Christ in Covington, Louisiana. Rev. Laura is married to Rev. Josh Baird who serves as The Director of Disciples Volunteering. They have young twin children, Lila and Jonas as well as infant daugher Liana.